TRUCK MOUNTED ROAD SWEEPER
MODEL NAME: SRD 6000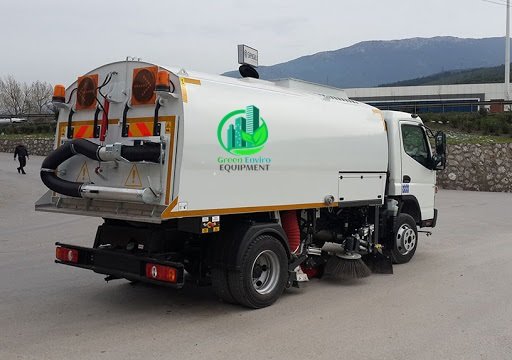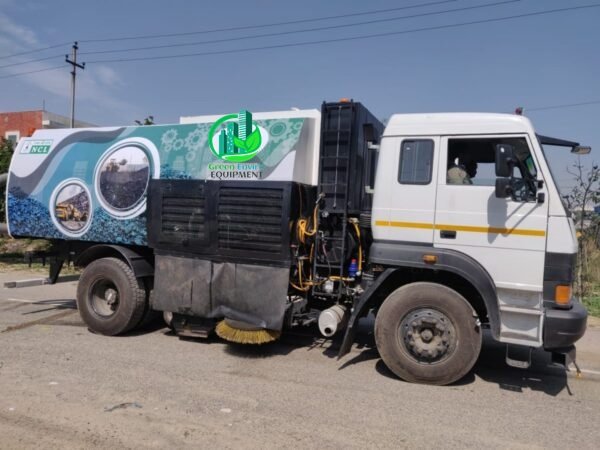 Truck Mounted Road Sweeper High Efficiency Filtration & Automatic Filter Cleaning System Through Pulse Jet Air.
The M/C can be operated by a single operator and has a rated capacity of cleaning 30000 m² in 1 hour easily, quickly & safely.
The  M/C  is  equipped  with  hydraulic  transmission and is powered by a diesel engine.
Water Spray Nozzles Provided at all Brushes with High Pressure Water Pump.
In built ccd camera, water tank .
In buit Vacuum Hose for congested areas.
Technical Specifications
Application: Road Sweeping
Model No.: SWR-6000
One Horizontal Brush: 1900 mm
1 Horizontal Brush & 2 Side Brushes: 3000 mm
Sweeping Capacity: 30000 Sq. Mt/Hr
Hopper Storage Capacity: 6 CUM
Sweeping Speed: 1-10 Km/Hr
Engine: Kirloskar Water Cooled Diesel Engine
Power: 4 Cylinder
Main Brush: 2200 mm
Side Brush: 650 mm (Diameter)
Hyd. Oil Tank: 60 Ltr
Dust Control Systems: High Efficiency Filtration & Automatic Filter Cleaning System Through Pulse Jet Air
Hydraulic Vibrator: Provided in Filter chamber to Clean The Filter in case of Heavy Chocking
Water Spray Systems: Water Spray Nozzles Provided with high pressure water pump
Water Tank: 500 Ltr